The
Keep Your Parents At Home
mission is to provide important information that can help families work through the wide range of issues in helping adult parents to stay in their homes. We are also comm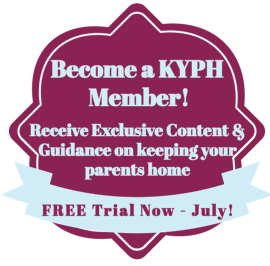 itted to proving forums where our KYPH Family members can share their success stories and challenges.  We're thrilled by the opportunity to make a tangible difference in the lives of our senior-aged parents and their families.  Here is a sample of the feedback we've received.  Thank you!
---

"Overall, I feel like I have made great strides since since the time you have spent with my mom and in talking to me and my brother.  Thanks you from the bottom of my heart. " – EKW

"This book is a thoughtful and practical guide to helping your parents stay at home with family. It also reflects on your own aging process and preparing for successful aging. Thanks Margo!" – Dona M.

"Thank you Margo. With both mine and my husband's parents turning 70 this year, this information is going to be invaluable." – Bethany B.